Kremlin withholds report on POWs
---
By Bill Gertz
THE WASHINGTON TIMES
---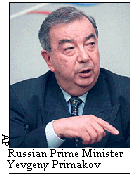 Published in Washington, D.C. 5am -- November 9, 1998

Moscow is refusing to turn over a secret KGB document suggesting captured Americans were taken to the Soviet Union in the late 1960s for "intelligence-gathering purposes," The Washington Times has learned.



Secretary of State Madeleine K. Albright earlier this year appealed to Russian Prime Minister Yevgeny Primakov, a former KGB chairman, to release the document that the Pentagon discovered in January and has been trying to obtain since then, said Clinton administration and congressional officials familiar with the matter.

The Russian government has told U.S. officials the plan was never carried out, and Moscow recently turned down U.S. government requests to study the intelligence document, saying it is classified and will not be released, the officials said.

Discovery of the KGB document has raised hopes among Pentagon POW investigators that information is in the KGB archives about the fate of some 8,000 Americans still missing from the Korean War, Vietnam War and other Cold War conflicts. Because of the date, "it could be about Vietnam," said one person involved in the issue who declined to be identified.

The document was first mentioned in the recently published memoir of Russian historian Gen. Dmitri Volkogonov, who died of cancer in December 1995. It also was disclosed in the general's personal papers that were donated to the Library of Congress last year.

"I can confirm that senior U.S. government officials, including Secretary Albright, have raised this important matter with Russian counterparts and continue to seek further clarification from them," State Department spokesman James Foley told The Times.

General Volkogonov described the document in his book as "sensational" and said he uncovered it while working as co-chairman of the joint U.S.-Russian commission set up in 1992 to resolve prisoner of war and missing in action (POW-MIA) issues from Korea and Vietnam, and the Cold War, when scores of Americans were lost on spying missions.

Norman Kass, a Pentagon official who is executive director of the U.S. side of the joint POW commission, said investigating the KGB document is "the highest interest" of the commission. The commission will meet in Moscow tomorrow when the KGB document will be discussed, he said.

"We consider it significant," Mr. Kass said. "After all, the people whose names appear in the papers were at the apex of the Soviet leadership."

According to Gen. Volkogonov's book, the KGB document outlining the program to exploit Americans was signed by Vladimir Semichastny, head of the KGB secret political police from 1961 to 1967.

Gen. Volkogonov wrote that immediately after discovering the report he asked the KGB chairman at the time, Mr. Primakov, to investigate. The document was located, but Mr. Primakov said there was no information about the program.

There is no mention in the book or papers of what the KGB planned to do with the captured Americans. According to Russian defectors, the KGB used Americans to train Russian undercover agents how to speak and act like Americans, as portrayed in Nelson DeMille's 1989 novel, "The Charm School," about American POWs from Vietnam who were forced to teach at a secret KGB training school.

Americans also could have been forced to supply information on U.S. military weapons systems, doctrine and tactics for Russians who might have to fight against them.

According to Gen. Volkogonov, the POW commission resolved many cases since 1992. But many were not because "quite a few documents were destroyed," he wrote.

"However, one document, probably sensational, is still in storage. I have a copy of it," he stated in his book. "Its content is as follows: at the end of the 1960s the KGB (external foreign intelligence) was given the task of delivering informed Americans to the USSR for intelligence gathering purposes."

"When I found this sensational paper in a 'special pouch,' I immediately went to Y.M. Primakov (Director of Foreign Intelligence). He called in his people. They brought in a copy of this project signed; it seems to me, by Semichastny. ..."

Gen. Volkogonov said the KGB searched for "traces" of the intelligence operation. "These, the traces, as I had expected 'were not found,'" he wrote.

"This remained a secret which I could not penetrate," he stated. "I also did not report this to my much-esteemed Ambassador [Malcolm] Toon. I am speaking about this now in the hope that these notes will make it into my book Reflections." His Russian-language memoir published in September is titled "Study of Time." Mr. Toon is the commission's co-chairman.

"History, especially Soviet history, is full of secrets, and very often evil," Gen. Volkogonov wrote. "With the exception of this incident, I can say that I have done something in order to raise the mysterious curtain from them."

A recent CIA report on Vietnamese government cooperation on American POWs stated that "a few reports of transfers of U.S. POWs to Russia and other countries are unexplained and the books remain open."

Former Czech intelligence officer Jan Senja told Congress in 1996 that he supervised the transfer of some 200 American POWs from Vietnam to the Soviet Union between 1961 and 1968. He also claimed Soviet bloc intelligence services performed medical experiments on American POWs.

Asked if President Clinton would mention the KGB document when he meets Mr. Primakov later this month at the Asian economic summit in Malaysia, White House National Security Council spokesmen David Leavy said the agenda for the talks has not been set.

A congressional aide said the administration stopped pressuring Moscow for the document after the economic crisis in August led to leadership changes.

Copyright © 1998 News World Communications, Inc. Reprinted with permission.