Despite taking evasive maneuvering actions, one missile continued into the strike group and detonated between Kelly's plane and another A-6A. The shrapnel and pellets from the SAM missile damaged both planes, and Kelly's A-6A lost all hydraulic systems. With the resulting loss of control, the burning plane began a twenty-degree descent toward a mountainous range. As the plane was reaching the speed of sound (550 knots) at 2000 feet, both Kelly and McDaniel successfully ejected, and landed in on the southeasterly slope of a small basin, while their A-6A impacted in an area commonly known as "Banana Valley". They were downed over 'Hoa Binh' Province, North Vietnam, by this surface-to-air missile about mid-day on 'Ho Chi Minh's' Birthday, 19 May 1967, a day of scattered clouds and 10 miles visibility.
A short time later, VA-35 squadron-mates Lt. Nick Carpenter and Richard Slaasted crossed over the burning crash - and immediately located and spoke by radio to both McDaniel and Patterson on the ground (Remarks By Slaasted Are Recorded In The Guestbook Of This Web Site - Please Read).
Kelly Patterson reported during ejection he had sustained a badly broken open (compound) fracture of his left leg and reported that he did not believe he would be able to move.
'Red' McDaniel sustained fractured vertebrae in his low back when he released himself from his parachute hanging in a tree, and was captured by local village milita on 20 May before he could reach Patterson - and spent the next six years as a P.O.W. in the 'Hanoi Hilton' until his repatriation in 1973. He later stated that they were both on the ground less than a mile from the crash site.
Carpenter/Slaasted returned in their A-6A the following day (20 May) and again found Kelly Patterson without difficulty. They spoke to him on his survival handheld radio and saw him down on the ground as they passed overhead "in a U-shaped valley" (Refer to map).
The following morning (21 May) Lt. Carpenter returned in the back seat of an Air Force F-4 Phantom with the intention of effecting a rescue, and again found/saw/spoke to Patterson. They then dropped a 'Fulton Extraction Kit' - out of the plane as they passed overhead of him. The Fulton surface-to-air recovery system was used by the U.S. military and other clandestine agencies for retrieving persons on the ground utilizing aircraft in flight. It involves using a self-inflating balloon which carries an attached lift line attached to a coverall-type harness into the sky approximately 500 feet above the individual. Then a HC-130H Hercules aircraft flies into and engages the line with its V-shaped nose yoke - and the individual is pulled into the sky and reeled onboard the plane. Red flags on the lift line guide the pilot during daylight recoveries; lights on the lift line are used for night recoveries.
Later that night, in preparation for the 'Fulton Extraction' two other F-4 Phantom's again readily found KellyPatterson, who reported by radio that it appeared that he was now surrounded by the North Vietnamese, that the Fulton Extraction gear had been captured by them and taken away before he could crawl to it, and that he had again moved back up a hill for safety to await rescue.
On the morning of 22 MAY 1967, U.S. planes again returned to the area, but were unable to regain radio contact or visually locate Patterson in the shoot-down area, and further efforts to rescue him were canceled.
Lt. Nick Carpenter was shot down during his second WestPac deployment while flying a night mission on 24 June 1968 - targeting the Kim Ma water interdiction point near Vinh, North Vietnam. Other planes in the area witnessed 'AAA' fire in the area and then a "fireball" which was thought to be his A-6A exploding. Carpenter did not survive the war, and his remains were only returned by the North Vietnamese to the U.S. on 13 September 1990, and identified on 27 March of the following year.
In an after-war interview, Richard Slaasted told Kelly's brother that the area around Patterson contained villages and numerous trucks. The correct coordinates of Patterson's last known location and the crash site have not survived in the official records, but (established from U.S. eyewitness reports) we know that he was within one mile of McDaniel - or even closer to the crash site (Carpenter), in a U-shaped valley (Carpenter), and in the vicinity of villages and truck-worthy roads (Slaasted).

Click Here To Read The Statement of LTJG Nick Carpenter Concerning the Shootdown and His Subsequent Rescue Efforts (September 05, 1967)

Click Here To Read The Statement of LTJG Robert S. Owen Concerning the Shootdown (September 05, 1967)

Click Here To Read The Communications Document Reviewing 'Combat SAR Activities' on May 21, 1967

Here Is a Short Video Which Explains the 'Fulton Surface-to-Air Recovery System'
---
There is ample evidence to indicate Patterson was captured :
During the nearly six years he was a prisoner of war, Eugene 'Red' McDaniel never again saw his bombardier-navigator.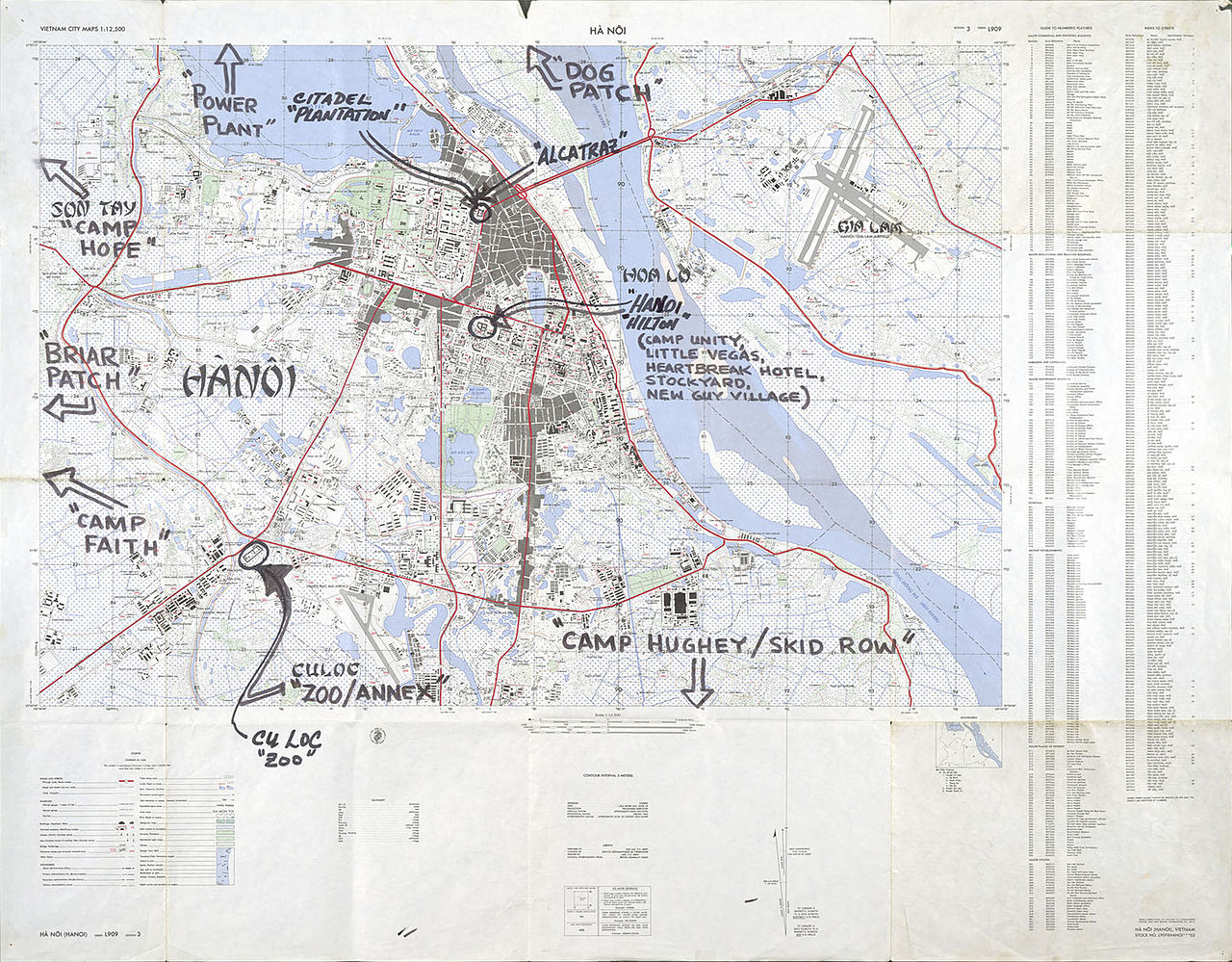 But he continually asked about Kelly Patterson within the prison camp, and was given conflicting stories. In Late 1967, he was told by an unidentified NVN prison guard that Lt. Patterson's leg had "healed well" and he had recovered from his injuries.

Click Here To Read Article "Where Is James Kelly Patterson?" - Written by Eugene 'Red' McDaniel - Published by the Shipmate Magazine July-August 1996 (Reproduction Rights Courtesy of USNA Alumni Association and Foundation)
Another repatriated POW, Air Force Major Dewey Smith shot down on June 02, 1967, said that while being interrogated at the Hoa Lo (Hanoi Hilton) Prison in the Fall of 1967 - he saw an interrogation questionnaire with Kelly Patterson's name at it's head.
Air Force Lt. Ronald Mastin became a POW after being shot down on January 16, 1967, and reported that during his captivity in Hanoi - he saw what he believed to be a photo of Kelly Patterson's ID card in a Vietnamese newspaper during the same year.
One case which supports the theory that only a portion of the total POWs held by the North Vietnamese were released as part of the Paris peace settlement in February-March 1973 - involves a civilian named Bobby Jo Keesee. Keesee was a Korean War veteran reportedly turned criminal, who hijacked an aircraft from Thailand and forced it to land on a North Vietnamese beach on September 18, 1970. He was captured and afterwards held in various military prison facilities in NVN until his release on March 14, 1973. His presence in the NVN prison camp system was unknown by other military prisoners for the term of his imprisonment, until his existence was discovered by accident only days before the general prisoner release in the spring of 1973 by an American POW. Keesee had been held in a separate section of the Hoa Lo Prison away from all other Americans, and had purposefully not been listed as a prisoner by the North Vietnamese. He may yet be imprisoned there it not for a unified effort on the part of other POWs to see that he was released with them.
Upon his return to the U.S., Keesee reported in de-briefings that while he was in captivity he saw Kelly Patterson's name scratched on a cell wall in a remote North Vietnamese prison near the Chinese border.

Click Here To Review Evidence Of A Likely Secret Underground Prison Facility Built In Hanoi 1970
---
The Vietnamese Explanation(s) in 1990 :
Twenty-three years after Patterson's loss, in December 1990, the Vietnamese brought before U.S. military investigators four "witnesses." This was their testimony, supported, in part only, by Vietnamese reports of unknown authenticity:
The militiamen involved in the search for "Raygun 502's" aircrew mobilized from Thuong Tien village in Kim Boi district. After searching in very rough terrain (described in various Vietnamese reports as a heavily forested, steeply sloping tall mountain) they captured the Fulton gear.
Nearby they found Patterson, he stood straight up with a pistol in his hand (remember his 3-day old open compound fracture of the leg), and he was shot with a rifle in the chest, and then buried on the spot (in disobedience to standing orders). Some time later his body completely disappeared because (according to "witness" testimony and previous reports) it was - - - 1) bombed by U.S. planes, or 2) eaten by wild animals, or 3) washed away by a nearby stream.
The location of this "grave site" is (in UTM coordinates) WH43718409. This point is on a ridgeline about midway down it's three mile length running south from the top of Nui Doi Thoi, the highest mountain in the area.
We do know the Vietnamese made contact with Patterson because they took from him his Military I.D. Card and Geneva Conventions card and returned them to the U.S. in 1985 (Note: I have personally examined the Military I.D. Card - which bears Vietnamese characters written on the plastic lamination). Later, to lend credence to one of their reports, they attached a photocopy of the Geneva Conventions card. The card they copied, however, was phony - not matching the real card now in his brother's custody!
The actual Vietnamese-claimed "grave site" was pointed out by the "witnesses" and thoroughly investigated in May 1992 by a U.S. team of experts borne on helicopters (the site is inaccessible by truck).
Nothing to indicate a body had ever been there was found. No trace or evidence of remains, not a button, a shred of cloth, a tooth, a zipper, was located. In fact the soil strata itself was found to be undisturbed.
In spite of the absence of remains, in spite of numerous U.S.-noted contradictions and inconsistencies between "witnesses," between "witnesses" and previous Vietnamese reports, and between "witnesses" and the established facts, and without first showing the established facts to be in error, U.S. investigators threw out those established facts in favor of the un-corroborated "witness" testimony!
They accepted the "grave site" as Patterson's last known location, even though it is on a ridge on the steep south slope of 3,930 foot Nui Doi Thoi mountain, not a valley or village or truck road within several kilometers.
Despite the evidence of his survival and without any proof to the contrary whatsoever, Patterson's alleged death was accepted as fact!
Since the Vietnamese and the U.S. now agreed as to his fate, his case, once a "compelling discrepancy", was now considered "".
Kelly's brother, George (Luck) Patterson would later state in February 1994: "I believe (Kelly) Patterson survived his capture, and the Vietnamese story is a fabrication possibly to cover the absence of a body for a living prisoner last seen being led away to Kazakhstan."

Personal Biography and Follow-Up Investigation By Kelly's Brother - George 'Luck' Patterson (February, 1999) :

As soon as James Kelly Patterson was old enough to gaze skyward, airplanes and flying became his lifelong obsession. A talented artist, one of his earliest grade school paintings shows a barefoot, straw-hatted Huck Finn type walking along a country path, stringer of fish a-dragging, cane pole a-toting, and over his head, a jet airplane. His model fighters and bombers hung from our bedroom ceiling, frozen in combat.
On weekends I was his captive assistant at the Rose Bowl parking lot where he flew his powered models. They all eventually crashed or flew out of sight, giving him an excuse to start building new ones. It's not surprising that the lowest point in his life came when he learned that Naval Academy study had ruined his eyes for pilot training. But he shook it off and, determined to be airborne, became, according to his commanding officers, a stand-out, inspired combat bombardier- navigator, one of the best in the business.

Maybe we were naive, but we thought the Vietnam issue was pretty simple: the communist North was poised to enslave the free South, our ally. America was right to intervene. And growing up siblings in a Navy family, entranced by every episode of "Victory at Sea", there was no question about it -- Kelly and I were duty-bound to go, and would go willingly. So he shipped out for Southeast Asia in December of 1966 as a B-N in a carrier-borne A-6 squadron, and, O'Sullivan Act notwithstanding, I followed in January.

After dozens of truly harrowing missions over the north, and several citations for bravery and outstanding performance, Kelly earned a much needed R&R in April. But he left Yankee Station, not for Bangkok or Honolulu or Brisbane, but for DaNang, South Vietnam. There he hopped a Marine convoy and found his way to my outfit in the bush.

Not unheard of, this was at least out of the ordinary. The Navy had invested a small fortune in his training, making him an expert in the use of the state- of-the-art electronics that was neutralizing Hanoi's air defenses. How he got approval for this trip, I don't know. Maybe he told his commanding officer he just wanted to see his kid brother in DaNang.

He had always been a protective big brother, and here he was again, checking on my welfare, easing our folks' concerns. He found me as I was preparing my Marine rifle platoon for a three day patrol, and not to be denied a visit, asked to go along. So I issued him a helmet, flak jacket, and rifle, and at O-dark-thirty stepped out of our perimeter into Indian country, Kelly in tow to share my muddy war in the paddies.

Our time together was cut short when my platoon was choppered out to pursue an NVA force which had hit the Marines in the foothills inland, but the two days we had together were very special. When we could, we talked about home and family, and of course the war. Kelly was living his dream, flying a carrier based Navy warplane in combat. Saving the South Vietnamese from the horrors of Communism was reason enough for fighting. He had no animosity toward the common people of the north, and took extreme care (to his own hazard, I learned later) to avoid civilian casualties on his bombing runs. He didn't even mind that the anti-war groups at home were sending medicine to North Vietnam. Maybe some of it found its way to the villagers, he reasoned, and maybe they would return the favor some day.

I treasure the memory of these, as it turned out our final, hours together. Kelly's conduct as a Naval officer, as a warrior, and as a man, and most especially as a brother, was extraordinary. When I last saw him, through the rotor dust of a rising "Sea Knight" helicopter, he was riding atop an am-trac headed back to his war. On May 19, 1967, Kelly was shot down over North Vietnam. With his pilot, Eugene "Red" McDaniel, he ejected, and with a broken leg evaded capture for three days. Then he disappeared...

Click Here To Read Newspaper Article - George (Luck) Patterson Reflects on his Missing Brother (July 30, 1995)
The North Vietnamese remained silent for 18 years, ignoring all inquiries. Then, in 1985, they suddenly claimed that their militia had found Kelly in the jungle, shot him dead when he resisted in a short gun battle, and buried him on the spot. Their several written reports of the incident conflicted with the accounts finally given to US investigators by two "eye witnesses" a few years later. And when the investigators dug up the spot where Kelly was supposedly buried, they found only undisturbed soil strata. No bones, no teeth, not a zipper, button, or buckle. Nevertheless, the US concluded that Kelly had died, "KIA, body not recovered".

Actually, there was persuasive evidence that he had survived his capture. McDaniel, a prisoner, was told by his guard that Kelly had recovered from his injury and was well. Another prisoner saw his name headlining an interrogation questionnaire. This and other evidence could not be corroborated or verified, any more than his death. None of it could be proven erroneous either, any more than his death. It was persuasive, but inconclusive.
---
Then this :
Shortly after the fall of the U.S.S.R., investigative reporter Yuri Pankov, in the respected Moscow Newspaper 'Kommersant', wrote in an article on 04 November 1991 that a U.S. "second pilot" shot down over North Vietnam on 19 May 1967 was taken overland through a "window" in the China-Soviet border to Saryshagansk on Lake Balkash - in the then Soviet Socialist Republic of Kazakhstan during the Fall of 1967. The author even suggested that the American aviator was still working in the area (though he later recanted this).
A February issue further stated he was transferred soon to nearby Priozersk. These were in a closed Russian military region dedicated to missile research and testing.
Kelly Patterson's is the ONLY unresolved M.I.A. case meeting Pankov's criteria. Note: He (Patterson) was an expert in the use of his aircraft's state-of-the-art electronics being used to defeat Vietnam's Russian-made missile defense system - Saryshagansk, Kazakhstan was the site of a modern Soviet military missile research facility involved in the development of more sophisticated and effective technology to circumvent the American countermeasures.

Click Here To View the Moscow Business Newspaper 'Kommersant' Article as Published in English (1991)
As shocking as this was, it made some sense to me. The A-6 "Intruder" electronic systems were cutting-edge at the time, routinely defeating the Russian air defenses deployed around Hanoi (and incidentally, around Moscow). Kelly was highly skilled in the use of these systems. If he could be made to tell when he did what, and why, he might be of some use in developing countermeasures.

In the months following this revelation, a concerted effort was made to find the source of the information, one Russian Army Major Vladeslav Timaschov. Timaschov, we were told, was dead, no proof offered.

In 1994, George J. Veith (authored "Code Name Bright Light") reasoned that if Kelly had been taken to Priozersk, just possibly a scientist still living in Kazakhstan might remember him. At his suggestion, I wrote letters with Kelly's picture, description, and possible circumstances then and now, to 62 Kazakhstan physics researchers.

In Alma Ata, the capital of now independent Kazakhstan, Professor Evgeny Kolomeets, known internationally for his work in cosmic ray physics, took a special interest in my letter. It seems he had been assisted by total strangers in locating his missing father's grave following World War 11, so at his own expense he published Kelly's picture and story in two newspapers.
Soon afterward, he was telephoned by a woman who claimed she met Kelly when she was 13 years old! She said that her stepbrother, an army officer assigned to Priozersk, and some of his officer friends came to her house one night accompanied by this American. She talked with this man, who told her he was confined to the military base and unable to move about freely. As a memento of their meeting, this American gave her a doll, which she still had to this day. She never again saw him, but was curtly told later by her stepbrother, angry that she had asked, to forget about the American, that he had died in an auto accident in Moscow. She said she was 100% certain the picture in the paper was the American she had met, and she would remember his face as long as she lived. She asked for nothing in return for her story, but she refused to give her name, fearing the consequences to her and her 12 year old son.

Encouraged by this contact, Kolomeets began asking colleagues if they knew of an American at Priozersk in the late sixties. One colleague told him not one, but several Americans had been there. An active duty colonel said there had been two, possibly three American "consultants" in Priozersk. A young man who had recently worked in Priozersk was interviewing for a job with the professor when he said that it was general knowledge that Americans had been present there in the 1970s. Again, these and others insisted on anonymity.

Kolomeets believed that if I came to Alma Ata and made personal appeals for information through the various news media, people still wary of Soviet era security bureaucracies might be encouraged to approach me. So, armed with a home-stay visa based on the professor's invitation and his promise to the state to "supervise" my activities, the blessing of JCSD (Joint Commission Support Directorate, the investigative arm of our side of the US-Russian Joint Commission on POW/MIA's), and funding by Kelly's brothers of the US Naval Academy class of '63 and elsewhere, I flew to Kazakhstan in October of 1997.

For over a week, and almost always accompanied by the professor, I was interviewed by a number of radio, television, and newspaper correspondents. As with any media coverage, the resulting stories were not always accurate in every detail, but the basic truths were communicated: an American is in Alma Ata looking for his American brother, James Kelly Patterson, shot down in Vietnam 30 years ago and thought to have been brought to Priozersk. Patterson was unmistakably identified as an American, which made the story unique and readable.

'Radio Liberty' broadcast the story throughout the old Soviet Union. Soon afterward, a woman living in Lugansk, in the Ukraine, phoned the correspondent and excitedly told him that she knew Patterson! In their taped conversation, she said that she worked in Priozersk in the 1960s and 1970s, and Patterson was there in another directorate. She was unsure of his first name, but thought it could have been James. She was also unsure of the year, but believed it was around the mid 1960s (later, she revised that to 1969). She said he died a stabbing victim. Significantly, she never raised an eyebrow at Patterson being an American. Midway through their conversation, the correspondent asked her "How did this American end up there?" She replied, "I couldn't tell you that. We did not know from where ....(tape garbled)."

This woman was unique among those claiming Kelly or other Americans had been at Priozersk: she identified herself openly, gave her address, and didn't object to further inquiry. She named others who knew Patterson. We were pretty excited, Professor Kolomeets and I. Even JCSD seemed to sense a possible breakthrough.

At the airport in Moscow on my return trip from Kazakhstan, I met the JCSD investigators in route to interview the Lugansk woman. One week after the radio broadcast, she now told them that Patterson was a Soviet officer, and she named a friend who could corroborate her story. The friend told the investigators that he and Patterson had been cadets at a radio-technical academy in Kiev, that Patterson had graduated in 1963 and was then transferred to Priozersk.

I was, of course, disappointed at this news. I was told that although the name Patterson was not common in the old Soviet Union, it did occur. But I couldn't shake a nagging skepticism about the Lugansk woman's story to our investigators. Her telephone conversation with the radio correspondent had seemed spontaneous and candid, totally lacking guile. She never once expressed concern that Patterson was American, a fact made clear in the broadcast and in their conversation. I speculated that after this phone conversation, someone told her: "You're opening Pandora's box and making a big mistake. If I were you, I'd tell them this story: ...."

Following its interview with her, JCSD asked that the archives of the radio-technical academy in Kiev be checked to confirm that a Patterson, or Paterson, or Peterson had been a cadet there 1960 through 1964. They also asked the Russian side of the Joint Commission to check its military archives for a Soviet officer named Patterson assigned to Priozersk in the 1960s. The replies received in the months that followed: From the Ukraine Ministry of Defense -- no Patterson, Paterson, or Peterson was a cadet at the radio-technical academy. From the Russian side of the Joint Commission--no Soviet officer named Patterson was assigned to Priozersk.

Click Here To Read The Investigative Report on the JCSD-Moscow Team Visit to Almaty, Kazakhstan (June 07-10, 1995)



But on January 19, 1999, the Russians about-faced and told JCSD that one Pavel Semenovich Peterson (pronounced by the Russians "Paterson" with a long "a" as in patriot) had indeed been assigned to Priozersk, where he died on June 6, 1965, and is now buried in the Ukraine. The information they gave was sufficient for follow-up inquiries by the US.

For JCSD, this investigation was now complete. Nevertheless, while conducting other inquiries in the Ukraine, they asked for a re-examination of the archives of the radiotechnical academy in Kiev. This time the academy found the name Pavel S. Peterson, a cadet there from 1955 to 1959.

I would like to say this is closure for me also. It almost is. I'm not sure what to make of the date discrepancy between the academy's records and the memory of one of its cadets. I'm trying to make contact with another witness in Priozersk, and I'd really like to talk to Pavel Semenovich Peterson's relatives in the Ukraine. Maybe one day some of Professor Kolomeets's sources will brave going public, or we'll find Vladeslav Timaschov very much alive and willing to tell all. Anything can happen, and if anything does, I'll update Kelly's story.

UPDATE: The entire 'Radio Liberty' broadcast program was tape recorded including the woman's call. A week later when the lady was questioned for more details about Kelly Patterson, and she quickly changed her story claiming she had been mistaken, that the man she knew was a Soviet Officer who was a graduate of an advanced radio/engineering academy in Kiev in 1963. The surname 'Patterson' is listed in a book of common and uncommon Soviet names. In checking further, the investigators found no record of a Patterson, or a variation of that name, attending or graduating that academy from 1960 to 1964. Likewise, there is no record of a Patterson having been a Soviet Officer assigned to Priozersk in the 1960s. Kelly's brother did not know why she changed her story, but he firmly believes someone coerced her into doing so. Who that someone is and why it was done could not be established.



A SOVIET CONNECTION TO KELLY'S LOSS ???
There has been much documentation and analysis of historical records in recent years to validate certain Communist motives and patterns involving missing American and allied serviceman.
This can be traced back to the prisoners-of-war held by the Soviet Bolshevik's in World War I, liberated but unrepatriated allied prisoners in Germany following World War II, prisoners-of-war not exchanged during Operation BIG SWITCH by North Korea following the Korean Conflict, classified personnel losses over Communist territories during the Cold War, and of course those missing from the Vietnam Conflict.
Throughout this historical timeline, a common theme is observed. It is outlined in the United States Senate Report issued on May 23, 1991, 'An Examination of U.S. Policy Toward POW/MIAs' which states in part:
"...In each case, the same dismaying scenario appears: On the Communist side, the regimes denied holding U.S. prisoners, contrary to many credible reports, while in fact they were holding the U.S. POW/MIAs as slave laborers and as reserve bargaining chips to get diplomatic recognition and financial assistance. On the U.S. side, our government downplayed or denied the reports of POW/MIAs, and failed to take adequate steps to prove or disprove the reports, while elements in our government pursued policies intended to make diplomatic recognition and financial support of the revolutionary regimes possible..."

Click Here To Read The Full U.S. Senate Report - 'An Examination of U.S. Policy Toward POW/MIAs' (May 1991)


Click Here To Read The Full U.S. House of Representatives Congressional Record - 'Another Look at our POW/MIAs' in Vietnam: What Was Moscow's Role (October, 1991)

---
Soviet Involvement with Vietnam POW/MIA's
The committee heard testimony from government officials and former members of the U.S. armed forces on POW/MIA cases from the Korean War,… read more